Long time no update? ;) How's everyone doing~?
Kim Tae Woo. Wheesung. Park Hyo Shin.
With these three men making their comebacks this season, life couldn't be better :D♥ I loved that we had lots of girl power but god lord, how overwhelmingly awesome is it to see these men and making such strong comebacks to boot. They don't even need backup dancers (sometimes I find rather funny), their voices does all the work for them T_T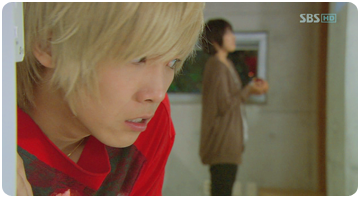 In drama news, something unexpected happened. To tell you the truth, I really didn't have much hopes for the idol drama,
미남이시네요 (You're Beautiful)
. Initially I thought the drama would feature mostly lots of eye candy along with a weak storyline ...but after one episode I was hooked! Geun Suk seems to have found the perfect role ♥ Jung Hong Hwa is the sweetheart we're all going to fall for and Oh poor
tormented
Hong Ki is adorable. I wonder if Park Shin Hye's inspiration for this role was Eun Hye? I swear sometimes I forget I'm watching Shin Hye! She looks so much like our Coffee Prince heroine! She's doing a pretty terrific job. The situations she gets herself into with Geun Suk (and vice-versa) are what makes this drama highly entertaining.
The episodes seem to fly by, and oh lord is it filled with major
hilarious-ness,
which actually borders on shocking sometimes xD I guess I should've expected this from the Hong sisters, having
Hong Gil Dong, Fantasy Couple
and
My Girl
under their belt. I just really hope they keep up this momentum and not try to milk the depressing aspect of the storyline later on.
No
Merlin
this weekend. How am I supposed to get my weekly fix? T_T;
Current Mood:
tired
Current Music: Jay Sean - Down ♥♥♥