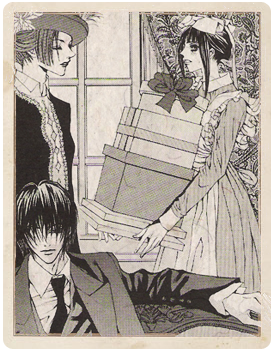 Hope everyone had a good Christmas ♥
I myself was reading
Bride Of The Watergod
yesterday

Vol. 09
- So, Habaek was
feigning
everything throughout ...one, nearly two volumes? T_T! Soah is such a tortured soul :|
- Habaek used to be dressed up as a girl 8|
- Poor Shin Nong. Fate is too cruel ...even for gods.
- I felt sorry for Yeohwa after they revealed who she was. Can't people just talk first instead of taking revenge. It's just one tragedy after another with Habaek isn't it?
Vol. 10
- The exchange between Soah & Mui's father is priceless 8D
To Soah: Are you a man or a woman?
LOL Poor guy has been stuck there too long. I really do like the story of Habaek/Mui's parent's being opposites.
- Panda makes her appearance! (The author, Yoon Mi Kyung represents herself as a panda)
- Damn Mura and her betrayals!
- I love that Bi Ryeom is for Habaek/Soah 8D;
- "아이렌" (beloved, cherished): Go get her from the Moon already ;___;!♥
The more I read the more I'm convinced this will make a good drama.
Movieweek
magazine tried their hand at picking the cast for the drama:

Lee Eun Sung as Soah.
Model Lee Soo Hyuk as Habaek/Mui.
I can see Lee Soo Hyuk happening but not too sure about Lee Eun Sung. The consensus among fans seems to be Joo Ji Hoon as Habaek and I must say I agree like woah ♥
Current Mood:
energetic
Current Music: Mika (Feat. Imogen Heap) - By The Time ♥